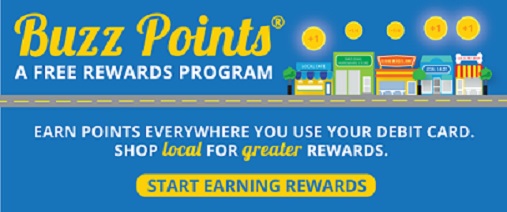 We're committed to building a thriving local community. That's why we've partnered with Buzz Points* to bring our members a free rewards program and provide locally owned businesses a unique marketing platform.
FCCU members earn points redeemable for rewards with every purchase they make on their debit card and earn additional points when they shop locally. By choosing locally owned businesses over big-box retailers, you not only support your friends and neighbors, but help keep up to 58% more profit in your community.
Here's how it works:
Enroll your FCCU debit card in the Buzz Points Rewards Program
Shop with your FCCU debit card
Sign for your transactions instead of using your PIN number to get points
Support local merchants to receive extra bonus points
Redeem your points for gift cards
Want Buzz Points?
Enroll online in just a few clicks!
Already have Buzz Points?
Log in to manage your account.
Buzz Points 'Real-Time' Rewards!
What does that mean? With Real-Time rewards, local rewards will be delivered in the form of cash back when you link your eligible FCCU Mastercard to your Buzz Points profile. This means no more vouchers or time-consuming QR codes!
Simply log-in to your Buzz Points account and follow the guided prompts to login to your profile, link your card, redeem your points and earn ongoing rewards! It's that simple. For more info, check out our 'Real-Time' Rewards FAQs.
Resources