FCCU Receives Prestigious Juntos Avanzamos Designation
09/23/2021
In recognition of their national Juntos Avanzamos, "Together We Advance," designation, Fort Community Credit Union (FCCU) hosted a proclamation ceremony last Saturday at the Unity Project's Fall Fiesta event at Jones Park.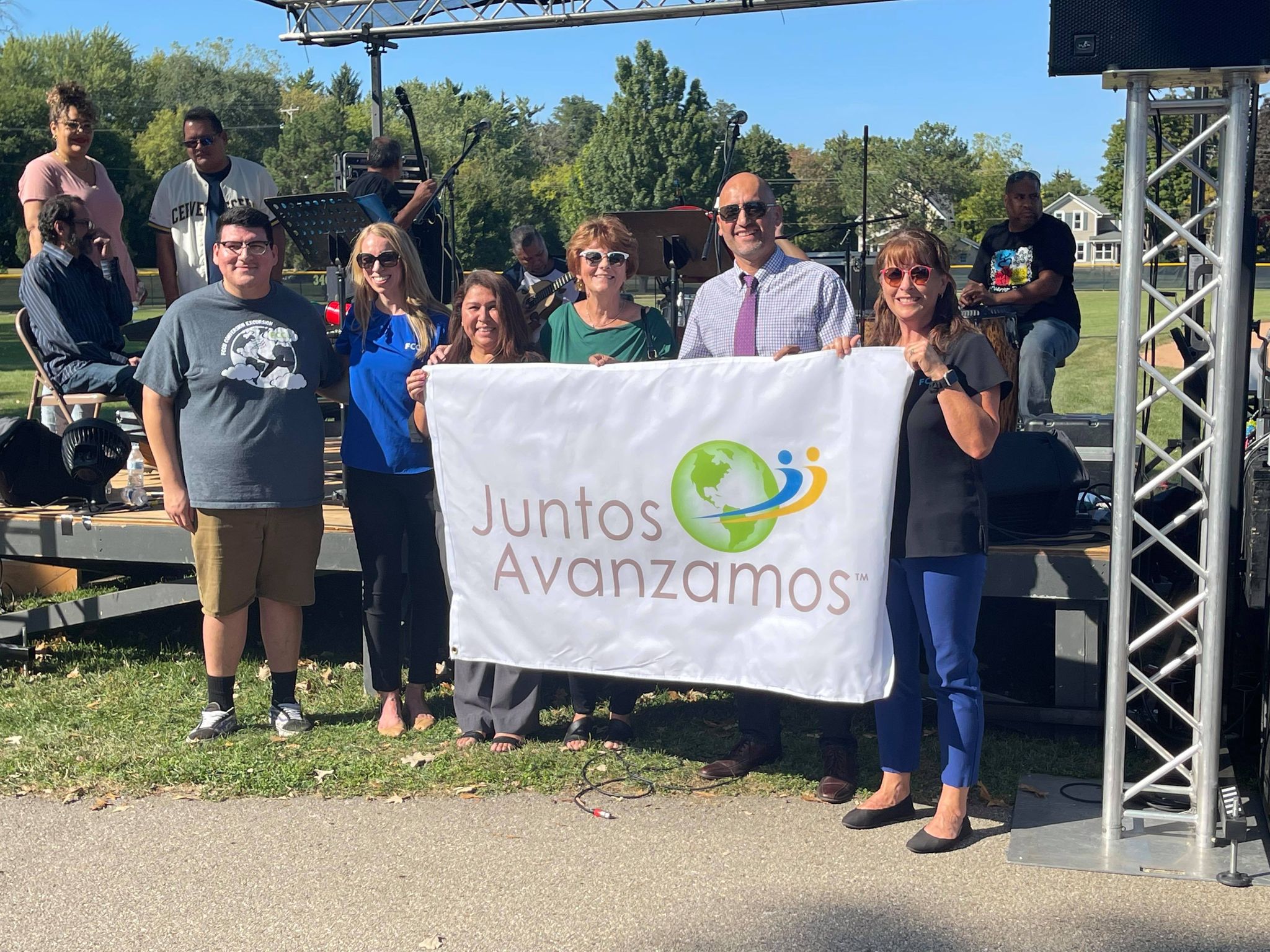 From left to right: Luis, Whitney, Yolanda, Dianne, Edgar (of CUNA Mutual Group) and Sue holding the Juntos Avanzamos flag
FCCU team members (Whitney Townsend and Yolanda Ramirez), member (Juan Villegas), and leadership (Sue Johnson and Dianne Butt) shared words of appreciation and celebration. They were also joined by Edgar Hernandez, Senior Manager- Multicultural Strategy with CUNA Mutual Group representing Inclusiv.
On behalf of Inclusiv, a leading national financial inclusion advocate, Hernandez welcomed Fort Community Credit Union to the Juntos Avanzamos program. During his remarks, he commented on the strong testament this designation served and thanked FCCU's leadership for opening the doors of opportunity to Hispanic and immigrant communities. Of the over 5,000 credit unions in the United States, only about 100 hold the Juntos Avanzamos designation. This accolade is a strong representation that FCCU has made an exemplary commitment to serve and empower the Hispanic and immigrant communities.
To receive this designation, FCCU demonstrated itself as a trusted financial partner by employing bilingual, culturally competent team members and leadership, accepting alternative forms of ID such as ITIN (Individual Tax Identification Number), offering products and services suited to meet the financial needs of the Hispanic and immigrant communities, and simply by treating members with respect, regardless of immigration status.
"This designation confirms to us that FCCU is heading in the right direction as a strong and genuine ally to everyone in our diverse communities," said Sue Johnson, President and CEO of FCCU at the event on Saturday. "While we have long served the everyday banking needs our Hispanic members by offering deposit accounts and ITIN Loans, we are now proud to offer ITIN Mortgages and are looking forward to working with Inclusiv to bring more services to our Hispanic and immigrant members and communities."
Back to Blog